Sansho Shoji is acquiring certification under the ISO9001 international standard for our sales departments in an aiming at improving the quality of all of the products and services that we provide in our corporate activities. And, in the future, along with our goals of customer satisfaction and constantly ongoing improvement, we will also work to maintain social trust while enhancing our competitive edge.
QUALITY PLAN ISO9001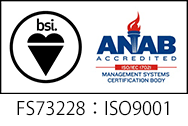 Basic Principle
Sansho Shoji aims to be a company that produce larger added value by implementation of trading functions putting an importance on achieving our customers' trust.
Action Guidelines
As a trading company of electronics-related products, we carry out in good faith the Action Guidelines set below in order to realize the Basic Principle.
1.
We will comply with laws and regulations related to our business activities, as well as agreed requirements.
2.
Our business activities are based upon following four mottoes to achieve our basic principle.
3.
Managers will strive to develop a corporate management plan while considering improvement of services to our customers, to constantly review business activities of our employees, and to take necessary improvement measures in order to achieve our goal.
4.
We will provide education to our employees to ensure awareness of our basic principle and action guidelines.
5.
We will make our quality management policy known to our employees in writing and make the information public.
February 15,2017
Sansho Shoji Co., Ltd.
Shinji Takahashi